RESULTS OF PROJECT "5 - 100": POSITIONS OF LEADING RUSSIAN UNIVERSITIES IN TOP-100 OF THREE LEADING WORLD RANKINGS
Zh. HeI

Belgorod State National Research University
Keywords:
Project «5-100», Leading Russian Universities, Global University Rankings, QS, THE, ARWU, TOP-100
Abstract
The analysis of the positioning of 52 leading Russian universities in three world rankings (QS, THE, ARWU) over a nine-year time interval has been carried out. It is shown that none of these universities, except for Moscow State University, was included in the TOP-100 of the rankings under consideration. Universities that are included in the QS ranking for 8 or 9 consecutive years, as well as universities included in 2020 in the stratified 100-rank intervals of the top parts of this ranking were identified.
References
1. V.M. Moskovkin, He Zhang, M. V. Sadovski.What Russian universities have chances to enter in 2020 TOP-100 of three leading world rankings? //The Economics of Science. - 2019. - Vol.5, №2. - P. 143–156.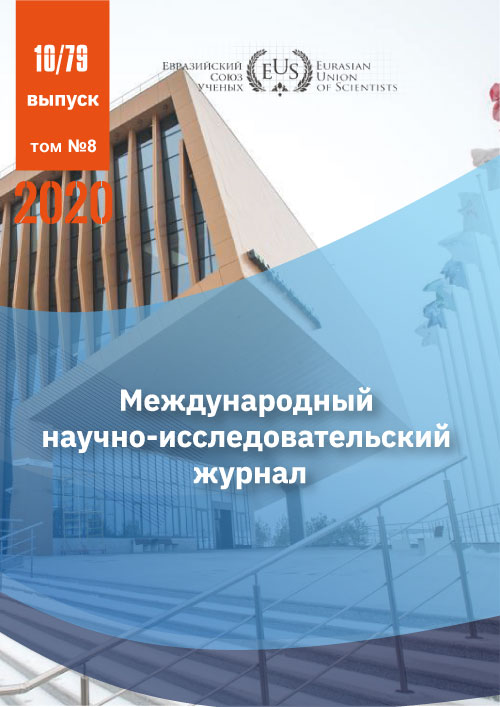 How to Cite
HeI , Zh. 2020. "RESULTS OF PROJECT '5 - 100': POSITIONS OF LEADING RUSSIAN UNIVERSITIES IN TOP-100 OF THREE LEADING WORLD RANKINGS ". EurasianUnionScientists 8 (10(79), 22-28. https://doi.org/10.31618/ESU.2413-9335.2020.8.79.1085.
CC BY-ND
A work licensed in this way allows the following:
1. The freedom to use and perform the work: The licensee must be allowed to make any use, private or public, of the work.
2. The freedom to study the work and apply the information: The licensee must be allowed to examine the work and to use the knowledge gained from the work in any way. The license may not, for example, restrict "reverse engineering."
2. The freedom to redistribute copies: Copies may be sold, swapped or given away for free, in the same form as the original.