CLINICAL AND EPIDEMIOLOGICAL CHARACTERISTICS OF COVID -19 IN JAIPUR, INDIA DURING THE PANDEMIC
A. Buranchieva

International Higher School of Medicine

A. Buranchieva

International Higher School of Medicine

Sh. Mayank

International Higher School of Medicine
Keywords:
coronavirus infection, epidemiology, clinic, age, gender, clinical forms, lethality
Abstract
Until now, the problem of coronavirus infection remains pressing, and many issues of this pathology remain open and little studied. The article examines COVID-19 clinical and epidemiological characteristics in Jaipur, India.
References
1.Severe Outcomes Among Patients with Coronavirus Disease 2019. 2020. Available from: https://www.cdc.gov/mmwr/volumes/69/wr/mm6912e2.htm [Last accessed on 2020 May 04]
2.Huang C, Wang Y, Li X, et al. Clinical features of patients infected with 2019 novel coronavirus in Wuhan, China. Lancet 2020;395:497-506.
3.World Health Organization. Coronavirus disease (COVID-2019) situation reports (https://www.who.int/emergencies/ diseases/novelcoronavirus-2019/situation -reports/).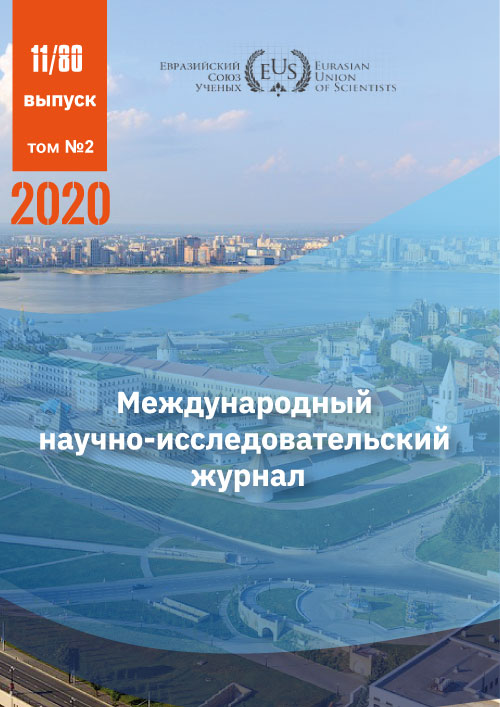 How to Cite
(1)
Buranchieva , A.; Buranchieva , A.; Mayank , S. CLINICAL AND EPIDEMIOLOGICAL CHARACTERISTICS OF COVID -19 IN JAIPUR, INDIA DURING THE PANDEMIC . Eurasian Union of Scientists 2020, 2, 65-68.