RESEARCH OF THEORETICAL BASES OF COMPREHENSIVE ANALYSIS OF THE ORGANIZATION'S ACTIVITIES
K. Kozub

Federal State Budgetary Educational Institution of Higher Education "MIREA - Russian Technological University" RTU MIREA branch of RTU MIREA in Stavropol
Keywords:
complex analysis, , economic analysis, financial analysis, management decision
Abstract
The study of a comprehensive analysis of economic activity consists in the formation of a systematic understanding of the theoretical foundations and practical methods and techniques of assessment, as well as forecasting the performance of organizations in various areas of entrepreneurship. The role of analysis as a means of production management is increasing every year, this is due to the need to improve production efficiency. Management decisions should be based on accurate calculations, deep and comprehensive economic analysis. No organizational, technological and technical measure should be carried out until its economic feasibility has been proven. The content of the financial analysis consists in a comprehensive study of the financial position of the organization, as well as the factors of its formation - profit, revenue, cost of production and other indicators.
References
1. Kazakova, N. A. Financial analysis: textbook and practice / N. A. Kazakova. - Moscow: yurayt, 2016. - 540 p.
2. Kanke, A. A. Analysis of financial and economic activity of the enterprise: Textbook / A. A. Kanke, I. p. Koshevaya. - M.: Forum, 2017. - 288 p.
3. Kupriyanova, L. M. Financial analysis: Textbook / L. M. Kupriyanova. - M.: SIC INFRA-M, 2016. - 157 p.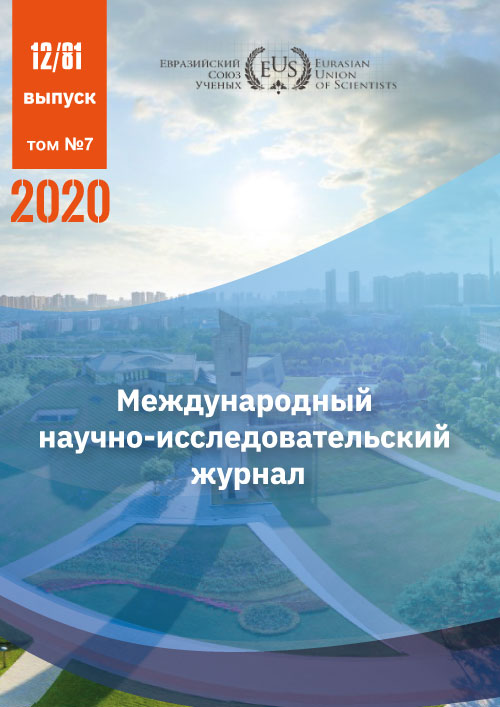 How to Cite
Kozub , K. 2021. "RESEARCH OF THEORETICAL BASES OF COMPREHENSIVE ANALYSIS OF THE ORGANIZATION'S ACTIVITIES ". EurasianUnionScientists 7 (12(81), 31-33. https://archive.euroasia-science.ru/index.php/Euroasia/article/view/389.
CC BY-ND
A work licensed in this way allows the following:
1. The freedom to use and perform the work: The licensee must be allowed to make any use, private or public, of the work.
2. The freedom to study the work and apply the information: The licensee must be allowed to examine the work and to use the knowledge gained from the work in any way. The license may not, for example, restrict "reverse engineering."
2. The freedom to redistribute copies: Copies may be sold, swapped or given away for free, in the same form as the original.