STUDY OF THE FINANCIAL RESULTS OF THE COMPANY'S ACTIVITIES IN THE REGION
V. Tishchenko

Branch of the Federal State Budgetary Educational Institution of Higher Education "MIREA-Russian Technological University", Stavropol
Keywords:
financial results, Profit, profitability, profitability indicators
Abstract
The article deals with the Theoretical aspects of the Financial results of the company's activities in the region. The study of financial results has a significant role for the enterprise, since on the basis of the data obtained, it is possible to timely help identify and eliminate the shortcomings of the financial activity of the enterprise, predict the further development of the organization. The financial results of an enterprise are an indicator of its useful activity in a market economy. The final financial result for the company is a net profit. Profitability characterizes financial efficiency, defined as the ratio of profit to one of the indicators of the functioning of the enterprise. 
References
1. Abdukarimov, I. T. Analysis of the financial condition and financial results of entrepreneurial structures: textbook. manual / I. T. Abdukarimov, M. V. Bespalov. - Moscow: INFRA-M, 2019. - 214 p. - Access mode: https://znanium.com/catalog/product/1003617
2. Gribov, V. D. Economics of the enterprise. Practicum: textbook / V. D. Gribov, V. P. Gruzinov. - 5th Ed., Reprint. and add. - Moscow: KURS; INFRA-M, 2013. - 448 p. - Access mode: https://znanium.com/catalog/product/365709
3. Dorman V. N. Commercial organization: income and expenses, financial result: Textbook / Dorman V. N., - 2nd ed., ster. - Moscow :flint, ural publishing house. un-ta, 2017. - 108 p. access mode: https://znanium.com/catalog/product/946686
4. Friedman, A.M. Analysis of financial and economic activity. practicum: textbook / a.m. fridman. - moscow: rior: infra-m, 2021. - 204 p. Mode of access: https://znanium.com/catalog/product/1155527.\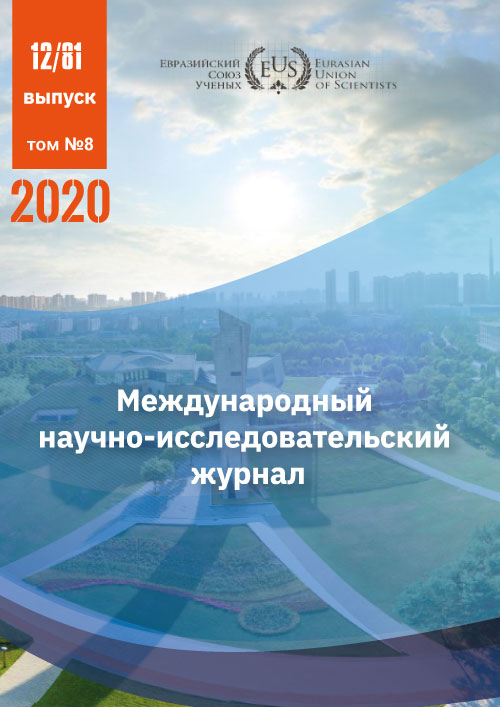 How to Cite
(1)
Tishchenko , V. STUDY OF THE FINANCIAL RESULTS OF THE COMPANY'S ACTIVITIES IN THE REGION . Eurasian Union of Scientists 2021, 8, 27-29.